Members and organisation
About 125 researchers and graduate students in Denmark use CERN either by contributing and participating directly in the experiments or by carrying out theoretical work related to CERN physics.
The organization of NICE is schematically depicted in the following organization chart.  Five Danish Universities are directly represented.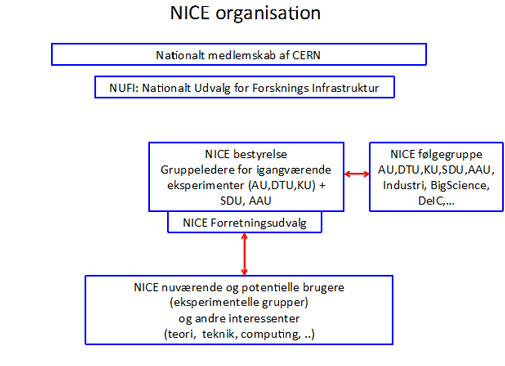 The NICE board ('bestyrelse') consists of all group leaders (or their representatives) of ongoing experiments at CERN that have Danish participation. The board has established an executive committee consisting of 3 members to handle daily matters in an efficient manner.
The board has established an advisory committee ('følgegruppe') that includes representatives from Industry, the Big Science secretariat, computing, etc.  with the following mandate (in Danish).
Kommissorium for NICE følgegruppen.
at følge  og rådgive omkring igangværende danske videnskabelige aktiviteter omkring CERN
at være sparringspartner og inspirationskilde for bestyrelsen
at sikre størst mulig bredde i den danske udnyttelse af det danske CERN medlemskab, herunder at undersøge og fremme mulighederne for at forøge deltagelse af danske forskere i CERN's programmer indenfor såvel eksperiment som teori.
at fremme ingeniørmæssig og industriel participation, samt dansk returværdi
at bidrage til udvikling af nationale strategier omkring Big science, herunder i særdeleshed acceleratorbaseret forskning
at forholde sig til nye nationale og internationale udviklinger og udgøre et rådgivende råd for faglige kredse såvel som for myndigheder
at fremme tværfaglig udnyttelse og spredning af CERN relaterede aktiviteter, herunder avanceret computing ( f.eks. HPC, GRID  og BigData),
at fremme videns overførsel og uddannelse, herunder at planlægge samlende aktiviteter i Danmark
Current composition of the board:
Center director and chair of the board: Professor Jens Jørgen Gaardhøje, KU, NBI,
Vice chair: Lektor Karsten Riisager, AU, IFA.
Additional members:
Professor Volker Naulin, DTU
Professor Jeff Hangst, AU, IFA
Lektor Karsten Riisager, AU, IFA.
Professor Peter Hansen, KU, NBI
Current composition of the Executive Committee:
Professor Jens Jørgen Gaardhøje, KU, NBI,
Lektor Karsten Riisager, AU, IFA.
Professor Francesco Sannino, SDU
Current Composition of the advisory group ( 'Følgegruppe'):                  
Chair: Professor Ulrik Uggerhøj, AU, IFA
Vice-chair: seniorforsker Finn Erland Christensen, DTU Additional members:
Kontorchef Lars Christensen, FI, UFM.
Adm. Direktør Jørgen Kunter Pedersen, Danfysik A/S
Daglig leder Juliette Forneris, Big Science sekretariatet, Teknologisk Institut.
Professor Jens Jørgen Gaardhøje, KU, NBI.
Professor Peter Hansen, KU, NBI.
Seniorforsker Josva Kleist, AAU.
Specialkonsulent René Michelsen, FI, UFM.
Institutleder Jan W. Thomsen, KU, NBI.
Underdirektør Steen Pedersen, DTU, IT.